include "/default/img/sitemap.xml";?>

include "/default/img/sitemap.xml";?>
Core competitiveness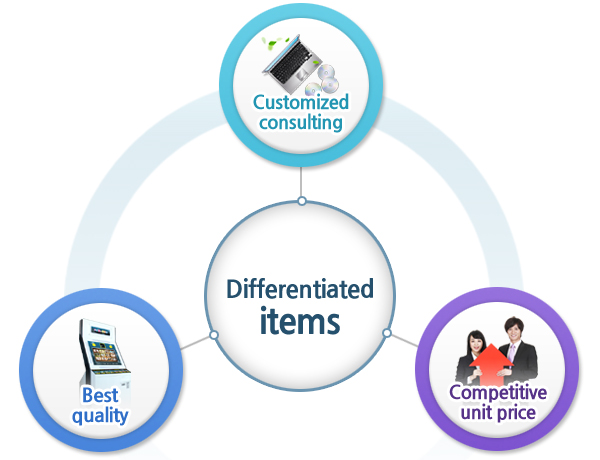 Customized consulting
Through market study & trend analysis, Product planning & design suitable to distribution characteristics, High quality product development
Strict confidentiality for products and customers, Customized A/S system
Best quality
Research specialized manpower with multiple years' accumulated know-how, Advanced production facilities, best quality warranted by strict quality management
Competitive unit price
Competitive unit price by automated production system and reasonable cost computation system, the fastest logistics delivery in the nation
01

Differentiated items (PIX n POP / PIX n POP 2)
Less incidental expenses (franchise expense, interior expense etc..)

No technical skills are required

Less fixed costs & the best quality photo booth in the world.

Easy to set-up & manage the sales
Increase in sale growth
Effect of increase in business competition
Distinctive and new item that is monopolize

Innovative product that can increase profits
Increase in number of visits
With QR code or NFC, information or events can be informed to attract new customers

Various applications of cards to increase visitors
Events and Promotions
Back of cards is available to use for promotions or events

Effects of increasing business or brand images
Extra Profits
Photobooth Rental Service Franchises: Photo Booth is a popular rental item at Private Parties, Corporate Parties, Birthday Parties, Quinceaneras, Dances, Reunions, Bat/Bar Mitzvahs, roms and After Proms, Tradeshows, Grand Openings, Fundraisers, College, Fun Nights, Teambuilding, and so many more! If you are interested in photo booth rental business, contact us right now!

Photoroom Franchises : people have fun with Photo Booths and it gives them an instant keepsake. Photos are timeless and the photo booth lets people be interactive. Photo Booths have limited space, so often the fun is trying to get everyone in the Photo Booth. Photo room is one of popular franchise in Asia. Put a few photo booths in a small place and make customers take fun pictures. They can use fun items to make a special memory. Photorooms need no labor costs! If you are interested in photo room business, contact us right now!

Loyalty Cards: A familiar concept to the loyalty card is widely recognized as the best way to achieve customers' loyalty. A well-designed, customized loyalty card or membership card is a quick and easy way to simultaneously boost your business profits, build loyalty and entice new supporters.
There is also a perceived value to the plastic card, so people tend not to discard them. A loyalty or membership card can act like an advert in one's wallet! If you are interested in a special loyalty card, contact us right now!

A wide range of Business line : People like souvenirs once they visit to Theme Park, Famous tourist site, Exhibitions etc. Back sides of cards are used with images or promotions of tourist sites. PIX N POP makes benefits for both customers and tourist sites. Besides, our business is infinite to all of other business area such as sports, marketing or alliance. If you are interested in boosting your business, contact us right now!